José Serebrier
Recordings
GRAMMY-winner conductor and composer José Serebrier is one of most recorded classical artists in history. He has received thirty-seven GRAMMY nominations in recent years. All his recent recordings have received multiple GRAMMY nominations.
When José Serebrier was 21 years old, Leopold Stokowski hailed him as "the greatest master of orchestral balance". After five years as Stokowski's Associate Conductor at New York's Carnegie Hall, Serebrier accepted an invitation from George Szell to become the Composer in Residence of the Cleveland Orchestra for Szell's last two seasons. Szell discovered Serebrier when he won the Ford Foundation American Conductors Competition (together with James Levine). Serebrier was music director of America's oldest music festival, in Worcester, Massachusetts, until he organized Festival Miami, and served as its artistic director for many years. In that capacity, Serebrier commissioned many composers, including Elliot Carter's String Quartet No. 4, and conducted many American and world premieres.
Serebrier has made international tours with the Juilliard Orchestra, Pittsburgh Symphony, Philharmonia Orchestra, Royal Philharmonic Orchestra, Scottish Chamber Orchestra, Toulouse Chamber Orchestra, National Youth Orchestra of Spain and others.
Serebrier's first recording, the Ives' 4th Symphony with the London Philharmonic Orchestra, won a Grammy nomination. His recording of the Mendelssohn symphonies won the UK Music Retailers Association Award for Best Orchestral Recording, and his series of Shostakovich's Film Suites won the Deutsche Schallplatten Award for Best Orchestral Recording. Soundstage magazine selected Serebrier's recording of Scheherazade with the LPO as the Best Audiophile Recording. He has recorded with the London Symphony Orchestra, London Philharmonic, Royal Philharmonic, Philharmonia, Bournemouth Symphony, Oslo Philharmonic, Bamberg Symphony, Royal Scottish National Orchestra, Royal Liverpool Philharmonic, Scottish Chamber Orchestra, English Chamber Orchestra, Barcelona Symphony, Czech State Philharmonic Brno, Weimar Staatskapelle, Sydney, Melbourne and Adelaide symphony orchestras and many others. "Serebrier Conducts Prokofiev, Beethoven and Tchaikowsky" filmed at the Sydney Opera, has been shown over 50 times on U.S. television. Serebrier conducted at the 2004 GRAMMY Awards ceremony in Los Angeles, telecast live to 175 countries. Serebrier presently records for Naxos, BIS, Warner Classics, RPO Records and Sony/BMG.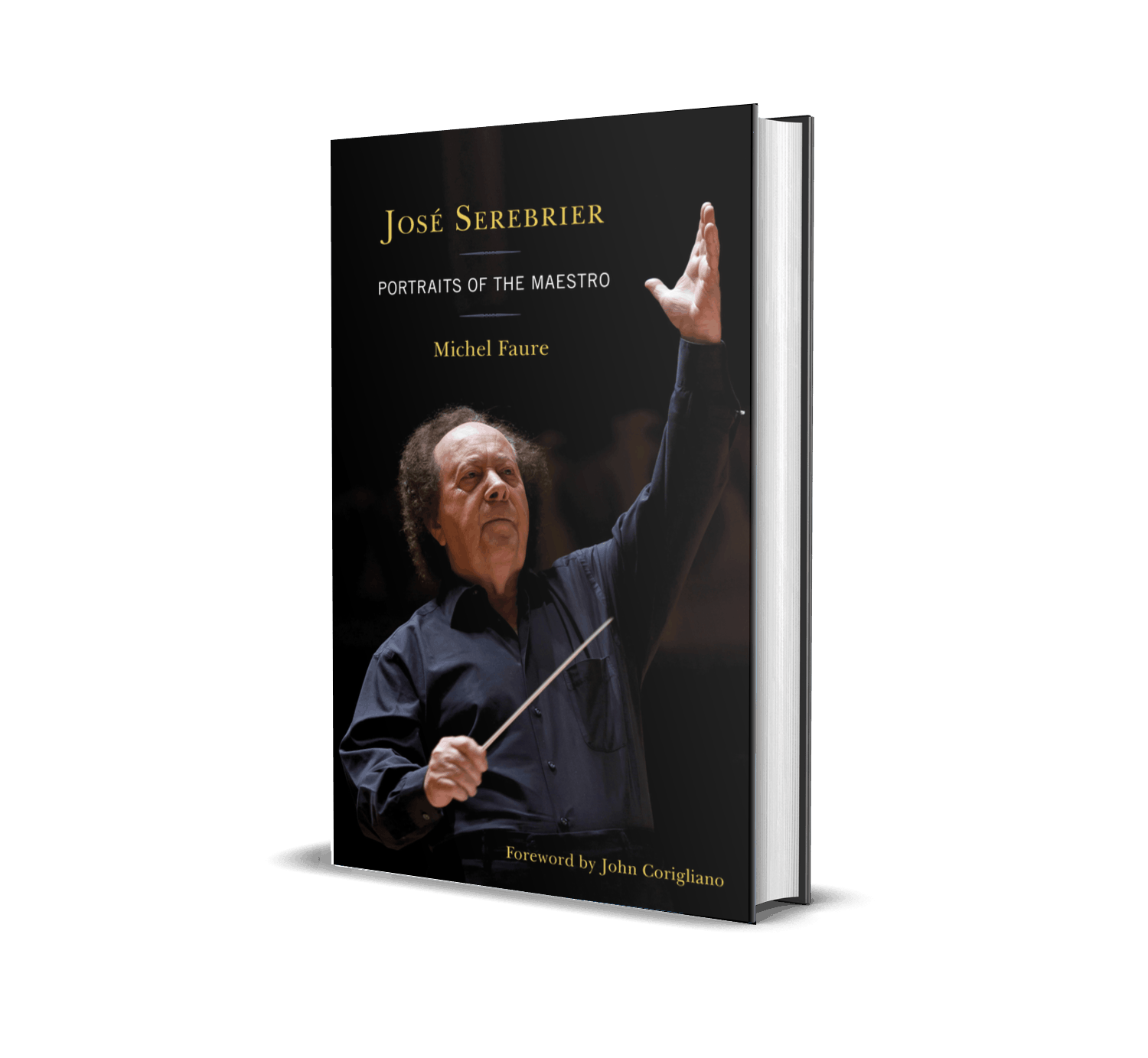 A comprehensive biography, "Portraits of the Maestro" by Michael Faure, with a forward by John Corigliano is available worldwide as of September, 2021. This book recounts José Serebrier's artistic journey and shares his many fascinating stories about encounters with famous personalities, past and present, in the classical music world.
José Serebrier Reviews:
"The performances under the experienced Jose Serebrier are first-rate…" —Anthony Burton, BBC MUSIC MAGAZINE

"Serebrier's synthesis (of THE MAKROPULOS CASE) positively seethes with interest for the ear" —Rob Barnett, MusicWeb International

"Serebrier and the LPO strut their stuff when it comes to fine details of the score. Overall, this is a virtuoso performance of a technically demanding work. Through many listenings, I enjoyed this performance on both an intellectual and emotional level. The fact that I consider Serebrier's and the LPO's performance on equal footing with [Reiner's] is high praise indeed." —Paul Schumann, SoundStage