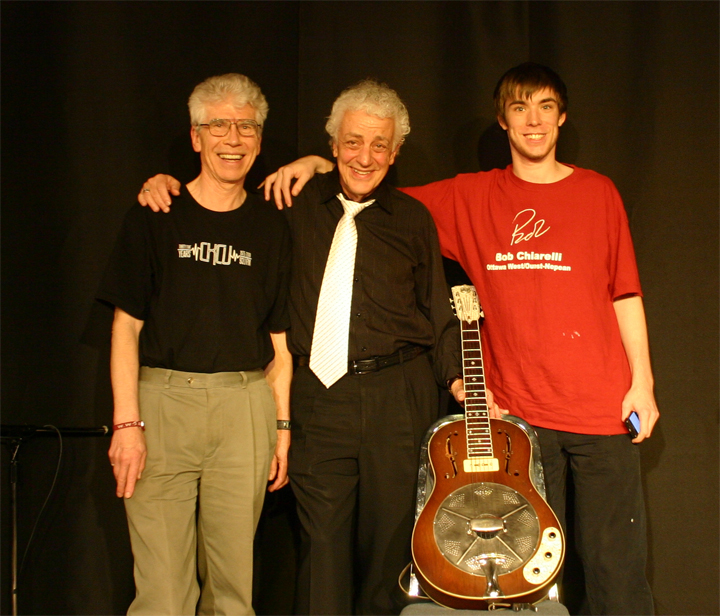 Tony Copple (left) and David Humphreys of CKCU
A couple of weeks ago, Doug MacLeod was at Alcorn Studios in Ottowa Canada and CKCU's "Window of Opportunity" host Tony Copple was kind enough to share with us a fantastic story, pictures, a recording and a video!
Take a listen to Doug MacLeod Live in the CKCU Studios!
From Tony Copple, CKCU:
Doug came on, and cracked up the crowd with his first few words. He has such a talent for storytelling when talking to a group of music lovers. By the time he plays a note he has them eating out of his hand. Some musicians play sweet tuneful music simply; some play with complex unplayable-by-others technique that leaves little space for tunefulness. Doug appears to produce effortlessly the sound of several guitars played by speed experts yet sweet and tuneful, even romantic in places. He will tell you that no two performances are alike; each song that night he announed as about to sound "exactly like this" meaning like nothing else.

He really believes in the integrity of the old masters such as Big Bill Broonzy in that they would sing about life decisions, faith, tough times. Doug will describe the "unmarked road" we should seek out, "that ain't right" – adultery or "this old river" separating life from death (the river Styx?). Listen to his words for mentorship in this world. Perhaps because his songs are so serious in their messages, he intersperses them with anecdotes and descriptions that contain both pathos and humour. There's a whole lotta laughter at a Doug MacLeod concert. But for many, myself included, it is his extraordinary guitar playing that keeps me listening, and that night there was plenty of it. His frequent use of a slide (not an easy thing to do when keeping up a relentless rhythm) is almost magic to watch, which enhances our listening experience hearing him on his excellent recordings.

Next time he's in town, don't miss him!
Get the full story and even more great pictures on the "Window of Opportunity" radio program website.