We just had to share these Positive Feedback reviews of Britten's Orchestra SACD and Rachmaninoff HRx. So, enjoy the excerpts from the reviews below, and read the full article at positive-feedback.com.
Positive Feedback Issue 50
July/August 2010
Reference Recordings SACD and HRx
by Teresa Goodwin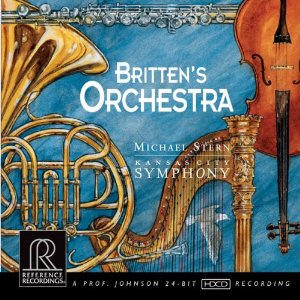 Britten's Orchestra
The bass is very deep and realistic with plenty of impact in both the Telarc and Reference Recordings SACDs. The bass drum has the slam one hears live in concert and the double basses and cellos have the growl they do in real life. This is an area where most recordings miss the mark, however both Telarc and Reference Recordings are known for retaining all the low frequencies of the original event.

The Telarc has more weight in the lower frequencies and the Reference Recordings a little more clarity in the high frequencies with beautiful string tone, though not quite as smooth as the Telarc. Both are excellent but I think the Reference Recordings is my overall preference.
Reference Recordings has a virtually unbroken history of making the finest possible high resolution recordings. They started with analog tape. They weren't satisfied with early technology, 16 bit digital recordings, so soon began making HDCD (High Definition Compatible Digital) recordings, a process co-designed RR recording engineer Keith O. Johnson.

Currently they record at 24 bit 176.4 kHz. Like any quality recording company, they have long been frustrated by the limitations of consumer formats. No one but their recording and mastering team could hear the full beauty of their recordings! ALL of the consumer formats downgraded the true sound of the master tapes, either because of the limitations of the format itself or of the playback equipment. Computer music playback is the new frontier. The WAV files on HRx are exactly the same as their master recordings. As long as the playback system you use does not convert or corrupt the bits, they will sound as wonderful as the original masters.

Sonically this is easily the finest sounding version of the Symphonic Dances I have ever heard and one the best performances as well. The seldom recorded Respighi orchestration of Études–Tableaux was a major surprise and work I shall hold dear to my heart for a long time.